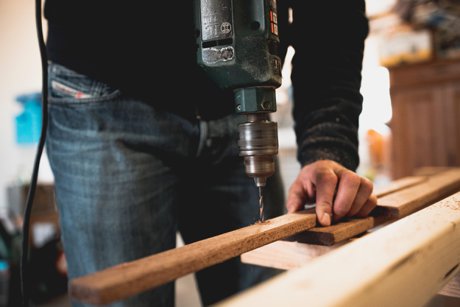 The potential cost savings make DIY home repairs look like an attractive solution, but are you sure you'll be happy with the result? According to CNBC, 43 percent of homeowners admit to botching a DIY home improvement. In the best case scenario, you have to spend more time and money fixing your mistake. However, the worst-case scenario could mean permanent damage to your home or your health.
For some repairs, DIY is an easy call. There's no need to hire a pro to fix a leaky faucet or patch holes in the wall if you're reasonably handy. And some intermediate repairs are do-able for experienced DIYers. The average homeowner probably shouldn't tackle tilework or flooring installation on their own, but if you know your way around a toolbox and are willing to spend extra time getting it done, DIY is an option.
However, there are some projects you should never DIY because they're dangerous, require a permit, or have high potential to damage your home (or all three!). Even if you enjoy a good DIY challenge, these five repairs are off-limits.
Electrical Repair
Electrical work seems simple enough. Wiring doesn't involve heavy lifting and doesn't affect the aesthetics of your home. It can, however, lead to electrocution or a house fire if it's not done right. And the tricky thing is, you won't know immediately if your DIY wiring is a fire hazard. Faulty wiring can spark a house fire months later.
The other problem with DIY electrical work is that it might not pass inspection. If you think no one will notice, think again: You're required by law to disclose unpermitted work when selling your home. Small electrical jobs like installing outlets and fixtures cost $200 to 500. If you're rewiring the entire house, expect to pay $1,000 to $2,000.
Interior Demolition
Think twice before you start swinging that sledgehammer. Unless you know with 100 percent certainty that a wall isn't load-bearing and doesn't contain plumbing or electrical wiring, you shouldn't DIY your demolition. Interior demolition also requires a permit in some circumstances.
Some demolition projects are ok to DIY. Many homeowners prefer to take out cabinets, tiling, and fixtures themselves to save money on a remodeling project before the pros come in. But when it comes to walls, spend the money to avoid a demo disaster. Prices vary depending on the project, but this resource gives you a starting point.
Gas Appliance Repair
A small mistake in gas appliance repair could threaten your family's lives. Gas leaking into your house can spark a fire or cause carbon monoxide poisoning. If a gas dryer, oven, or furnace repair requires working with gas lines, always call in a professional. Most appliance repairs cost around $200, and some of them may be covered under your appliance warranty. If you simply need a new gas appliance installed, ask if the installation is included.
Pest Control
Many homeowners don't think twice before spraying pesticides in or around their house, but they should. Pesticides are potent chemicals and inexperienced users tend to over-apply pesticides. This has serious repercussions for your health, but proper use of pesticides greatly reduces the risk. If you're dealing with termites or another pest issue, calling a pest service is a no-brainer. The cost depends on the extent of the problem; in Columbia, extermination is usually between $158 and $731, but there may be structural damage to repair as well.
Roof Repair
Even experienced roofers fall off roofs and suffer serious injuries or death. Without training and proper safety equipment, you're even more likely to get hurt if you climb on the roof to patch a shingle or make another roof repair.
DIY roof repair simply isn't worth the risk. Minor roof repairs can cost as little as $150, while the bill for bigger projects is around $1,000 — there's no doubt your life is worth more than that. Always err on the side of caution and call in a pro when it comes to your roof. Period.
DIY home improvement is cost-effective and rewarding, but only when you do it right. If you want to save money on home repairs, stick to the jobs you can do safely and satisfactorily, and leave the rest to the pros. Your home and your health will thank you.
Image via Pexels