SunTrust Loan Products and Specialty Programs
On Thursday, October 26, 2018, J. King Real Estate had the opportunity to sit down with Mortgage Loan Officer Bryan Baldwin and Mortgage Loan Specialist Erica Watts to discuss the loan products SunTrust Mortgage has to offer.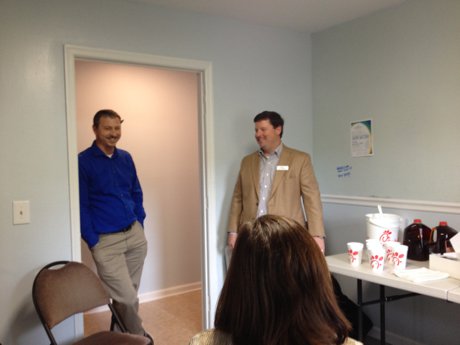 Jason introducing Bryan to the J.King Real Estate Team
They have a step-by-step guide for first time home buyers that answers all of the questions you need to know about the home buying process, from pre-approval, all the way through closing and what comes next. It even offers tips on budgeting after you've bought your new home.
Mortgage Loan Officer Bryan Baldwin specializes in SunTrust's Doctor Loans and Jumbo Loans. SunTrust has a great Doctor Loan Program he shared with us. This program is unique, and only for doctors with an M.D. designation. Some of the amazing benefits of this program include: 100% financing (on purchases up to $750K), NO mortgage insurance (that's HUGE!), and the massive benefit of not having to include their student loans into their debt-to-income ratio (talk about buying power).
SunTrust also has a special loan program for Medical Professionals that do not have the M.D. designation. This would include, nurses, dental hygienists, speech therapist and more. This program requires buyers to only put down 3% on their new home purchase and there is no mortgage insurance required.
Bryan and Erica shared with us about SunTrust's Premiere Mortgage Program (Jumbo loans of $454K and up). This program also offers NO mortgage insurance, down payments as low as 10%, fixed rate mortgages or ARMs and maximum loan amounts up to $3 Million.
SunTrust offers all of the standard loans in addition to these specialty loan programs, to include; FHA, VA, USDA, Conventional and ARMS. All of SunTrust's loans are serviced in house, except their USDA loans, which get sold after closing. That means with SunTrust you will never have the surprise of having your mortgage loan sold to another lender without your knowledge, and you will always have a local person to assist you with any of your mortgage needs, and/or any questions that may come up after closing on your new home.
SunTrust also offers Extended Rate Lock Options to their clients to protect them from rising interest rates. These extended rate locks are available on jumbo loans, their specialty programs for physicians and dentists, conventional fixed and ARMS, including FHA, VA and Agency loans.
If you are looking to get pre-approved to purchase your new home and want to work with a great team, contact Bryan or Erica at SunTrust today to get pre-approved, and then contact one of our agents to start the search for your new home.
Mortgage Loan Officer/SunTrust
803-996-0359
Erica Watts
Mortgage Loan Specialist/SunTrust
803-996-0464
Owner/Broker in Charge/J. King Real Estate
803-318-4712
Real Estate Agents Jessica Canaday and Brandi Clarkson learn about SunTrust's specialty programs.
Erica Watts with SunTrust and the J.King Real Estate Team enjoying a great lunch together!